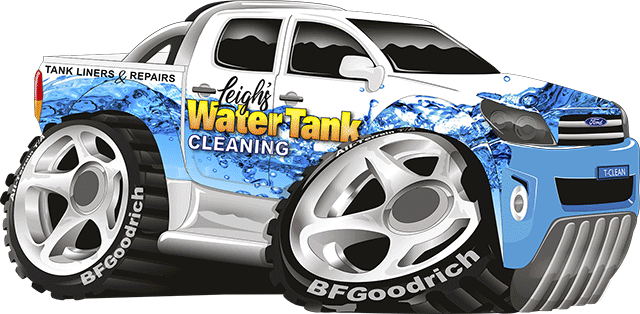 Based in NSW, servicing the corridor between the Hawkesbury and the Snowy Mountains, including the ACT.
YOUR WATER TANK SPECIALIST
LEIGH'S WATER TANK CLEANING
Crack Repairs, Tank Liners & Banding!
Many concrete tanks are repairable. We can also install tank liners.
We guarantee you won't be disappointed!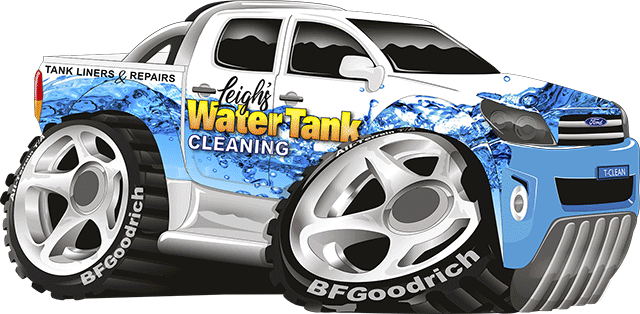 Based in NSW, servicing the corridor between the Hawkesbury and the Snowy Mountains, including the ACT.
YOUR WATER TANK SPECIALIST
LEIGH'S WATER TANK CLEANING
Crack Repairs, Tank Liners and Banding!
Many concrete tanks are repairable. We can also install tank liners.
We guarantee you won't be disappointed!
Do you have a cracked and leaking water tank?
Let Leigh's Water Tank Cleaning come and take a look. We offer tank repairs and tank liner services, we can also fit steel bands to reinstate the structural integrity of your water tank if required. With tank repairs the severity of the damage determines whether a repair is possible or the tank needs to be lined. If the damage to your tank is assessed as being too extensive to repair a tank liner may be your last resort. We are happy to come out and measure up to provide you with a free quote.
Concrete Water Tank Repairs, Liners and Banding
Water is such a precious resource that no one wants to see wasted due to cracked and leaking water tanks.  Most concrete water tanks will develop cracks over time due to ground movement and given our climate of extreme dry and wet periods alike, there is always the potential for further movement and cracking. Sometimes the cracks are not as obvious, floor cracks are common and often go undetected.
Repairing a water tank using sealants or fillers may seem like an inexpensive solution, and it can be successful, but this is usually when there are only minor cracks, it's not normally the case for water tanks where there is severe damage and/or multiple cracks. 
Sealants and fillers may only be a short-term solution, we find that many of the water tanks we install liners in have already been patched.  It's also important to note that most sealants and fillers only allow for a very small amount of movement, so say you were to apply a product with a 15% stretch rating across a crack of 1mm, it only has to move 0.2 of a mm before the patch starts to fail.
If you are looking for a more permanent solution to repairing your cracked and leaking water tank, installing a tank liner is a far more reliable, long term solution, which in the end makes it a more cost-effective alternative. 
Liner
All liners are custom-made to fit your water tank size and shape, domestic or commercial.
We use quality Australian made tank liners that comply with Australian Standard AS/NZS 4020:2018 Water Potability Standard. Products for use in contact with drinking water.
Reinforced, Advanced Thermoplastic Polyolefin material (TPO) ideally suited to tank liners.
UV stable, potable certified to the Australian standard and BPA free.
Contains no plasticisers which can migrate out of the liner over time causing shrinkage, brittleness and premature failure.
Does not leave a smell or taste in the water.
Is reinforced so it does not shrink or stretch.
Made in Australia for Australian Conditions.
Installation
Installing a liner in your water tank can be done with minimal downtime.  We will clean, drain and install your liner within the same day, in most cases.
Once the water tank has been cleaned and drained the piers or supports are removed and the floor and wall of the water tank are checked thoroughly for anything sharp that may compromise or puncture the liner.
When required we core drill new outlets and install new brass flanged liner outlets and gate valves, and we pre-drill all liner fixing points.  We check the position of the overflow to ensure that it is below the inlet, as we have had to re-pin and/or replace liners that have failed due to this not being taken into account during the initial installation by other parties.  In our experience we find that liner failures generally come down to poor installation rather than product failure.
We line the tank with a layer of Geotech for added protection between the tank and the liner.  Metal roof support posts are removed and replaced with acrow props, for tanks with piers, we remove a small section at the base of the concrete pier to allow for the installation of the liner, we then re-pack these with compressed concrete and food grade rubber pads to protect the liner.  Once the liner is secured to the tank wall, all inlets and outlets are sealed, the external plumbing can then be re-fitted, and your tank is ready to use again.
If you are in an area that is at risk of being affected by bushfires, we can install a Stortz fitting that can be used by the Fire Department should they need to defend your property.
Banding
Horizontal cracks do not pose a major structural concern, but if your water tank is severely damaged with multiple vertical cracks, we may recommend banding to reinstate the structural integrity of the tank. This is because the reo inside your tank wall could be rusted at the crack lines, which means that the structural strength of the tank could be compromised, and the tank wall could blow out under the pressure of the water pushing against it once is able to hold full capacity due to liner installation.
If you are unsure about the structural integrity of your concrete water tank, fitting steel bands may be the simplest way to give you back your piece-of-mind, as well as potentially avert further movement and cracking of the tank wall in the future.  Our steel bands are fabricated specifically for your water tank with tension points at every join for optimal effectiveness.
Guarantee
All liners come with a conditional 10-year warranty.
Leigh's Water Tank Cleaning stand behind the installation of your tank liner 100%.
Our Tank Liners and Banding
For a reliable, no fuss approach to repairing your water tank go no further than Leigh's Water Tank Cleaning.
Based in NSW, we service the corridor from The Hawkesbury all the way down to the Snowy Mountains, including the ACT!
Camden and surrounding areas, the Southern Highlands including Robertson, Kangaroo Valley and surrounding areas, Windsor, Richmond and surrounding areas, Wollongong, Nowra and surrounding areas, Goulburn, Murrumbateman, Braidwood, Canberra, Cooma, Jindabyne and everything in between.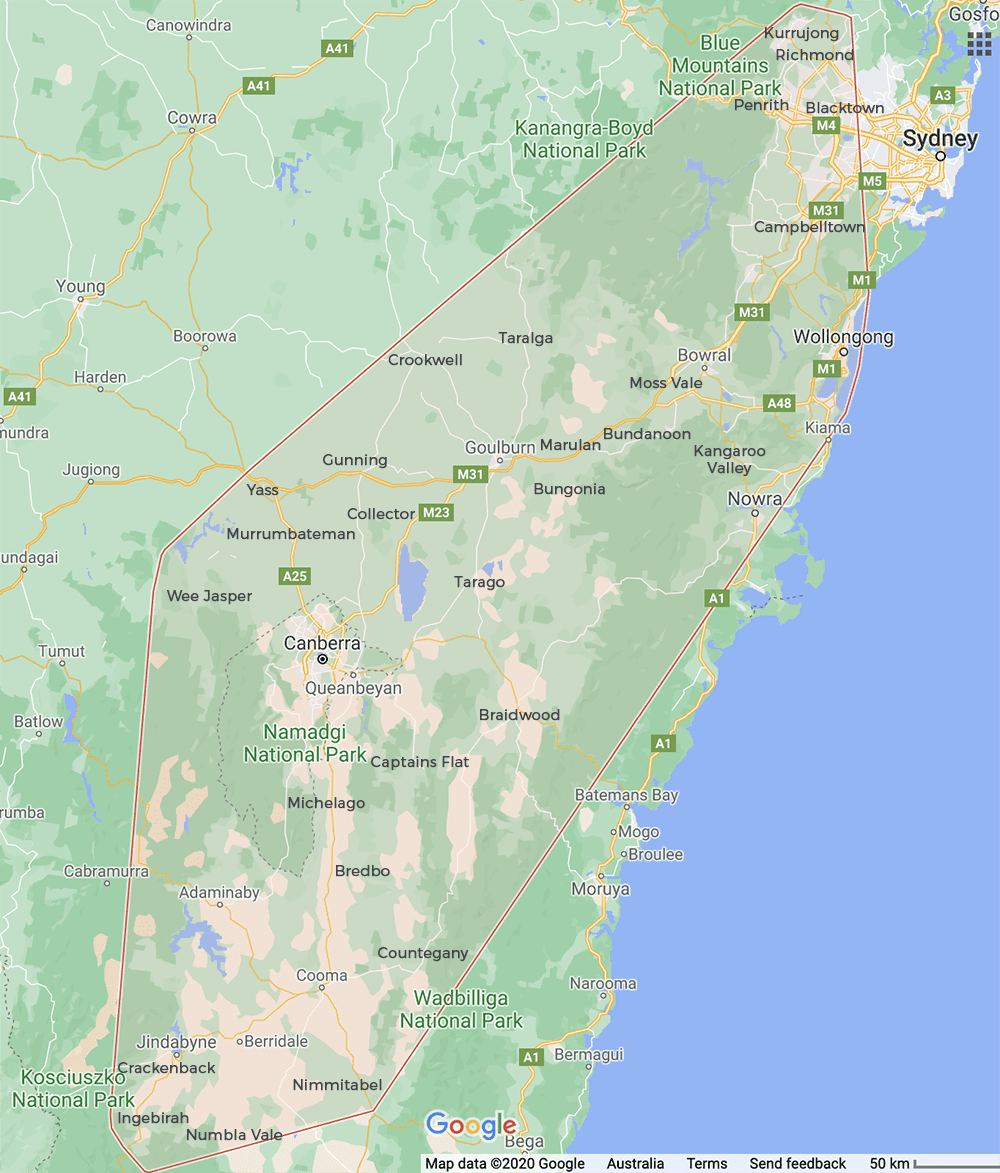 See What Our Clients Have To Say!

After 3 years (almost to the day) since the last fantastic cleaning of our water tank, I rang Leigh because our water was smelly and required urgent attention.  He picked up his phone & said "Hello Melissa"!  I was very impressed, yet again.
At first Leigh thought he could not get here until the next week but low and behold, within days he rescheduled and was able to deal with our problem.  He said that smelly water was his priority.
Once again, we are so grateful to Leigh and his wife for their professional, can-do work ethic. The price was as expected  – we didn't ring around, there was no need!
Melissa – Werai (Feb 22)

Great communication about what was needed to repair a leaking concrete water tank, explanation of the process, timing and cost. On the day of the repairs the job was done well by the delightful owner and staff – couldn't be happier to have a well repaired tank to provide clean water for the family for years to come.
Theresa – Bywong (Mar 22)

Leigh went above and beyond to help us with our tank issues. Genuine guy, we are very happy! Thank you!
Bec – Camden Park (Feb 22)

We have a 55,000 litre water tank. I don't believe it had been cleaned out for 37 years.  Leigh gave me a very fair estimate over the phone, came out promptly next day and  completed the job in an efficient manner and I was charged the quoted price. You cannot ask for more than that.
Thanks again, Leigh!
Robert – Box Hill (Feb 22)

Excellent prompt service. Tank needed cleaning urgently after a hail storm. Highly recommended"
Linda – Springrange (Jan 22)
We offer an honest, friendly and reliable service with a no bullshit approach!
We take pride in punctuality and communication.
We won't sell you services that you don't need!
Contact Us Today!
Based in NSW, servicing the corridor between The Hawkesbury and The Snowy Mountains, including the ACT